Victor's Hotel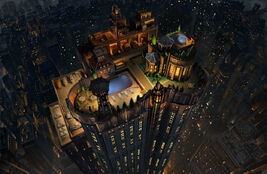 Game
The Godfather Games
Teams
Charlie VS Barzinis
Place
New Town, France City, France, Europe
Modes (Console Only; PC can play any map in any mode)
Singleplayer, Multiplayer
Console Codename (PC)
Victor Hotel
Singleplayer Map
In New Town
Victor's Hotel was one of the most expensive hotels in France City, run by former game tester Micky MacHale. The hotel was a front for a major Barzini family gambling casinos, pools, bars, clubs, run by Francesco Barzini, and was also known to have the offices of underboss Victor Barzini, who created the hotel. It took him 11 months to build the hotel.
In 2011, during the Five Families Mob War, the Hotel was taken over by the Corleone Family. The New Town Police Chief was known to have placed a room for rest during Sundays, a room which he used to store incriminating evidence against himself from several murder trials. However, thanks to a Corleone underboss from Oklahoma, Charlie Trapani, he was able to locate the evidence and blackmail the chief in protecting his family.
The hotel was taken over once again by the Fortunato Regime on 21 October of 2016, and is now once again ruled by the Barzinis, more specifically, their underboss and creator of the hotel, Victor.
Known employees