Summer Knight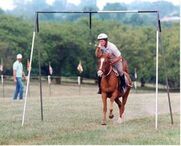 A knight attacking
Game
World of War: Revenge
Character
Janitor
Weapons
Knife, SP-43, SAR-41, broom
Place
Jousting Ring
Objective
Secure the Jousting ring.
Enemies
Jousters
Summer Knight is a co-op campaign mission featured in World of War: Revenge.
Walkthrough
Edit
You gain conscience in the middle of a jousting ring with jousters charging towards you, it is your job to kill all 20 of them.
Ad blocker interference detected!
Wikia is a free-to-use site that makes money from advertising. We have a modified experience for viewers using ad blockers

Wikia is not accessible if you've made further modifications. Remove the custom ad blocker rule(s) and the page will load as expected.