Skywolf is Modified Pave Low Helicopter. Skywolf 1-5 has no improvements but the 2-5 and 3-5 have the armanents of a Mini-Gun, ATA Missiles, Air-to-air missiles and Air-to-ground missiles, plus it has flares.
Killstreak
Only Australians can call in this one. It doesn't appear in the selection it only appears by a care package used by an Australian soldier.
Campaign
In Campaign Skywolf 2-5 and 3-5 are used. 1-5 is only seen in American Training. Skywolf has its numbers as a insiginia.
Photo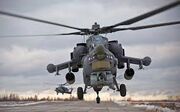 Users