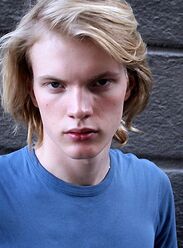 Ralph Jarl Ulrich
aka
PieDude101
is a blond haired and blue eyed Swedish man who currently lives in London, England. He was born August 25, 1989 in Gothenburg, Sweden. He has been active since April 9, 2008. He enjoys playing pinball, pool, darts, bowling, golf, and certain video games, mostly the
Bully
,
Big Buck Hunter
, and
Mafia
series as well as
SpongeBob SquarePants: Battle for Bikini Bottom
and
The SpongeBob SquarePants Movie Game
. The only GTA games he's played are
Grand Theft Auto IV
,
Grand Theft Auto: Episodes from Liberty City
,
Grand Theft Auto: Vice City
, and
Grand Theft Auto III
. He also likes Nickelodeon and Cartoon Network, and does reviews on them. He is about 5'9 and 165 lbs. He also has an Italian girlfriend named
Nadia Mariza
as well as a three dogs: a boxer named Edgar, a pug named Small Fry, and a bulldog named Mugsy. He has only collaborated with
Jason1980
twice and both times were in 2014. The first time, they were doing a review of the
SpongeBob SquarePants
episode called "Truth or Square". However, the second time, they were arguing. PieDude101 claimed he thought "Pressure" and "I'm with Stupid" were good episodes of the series, whereas Jason1980 thought they were the "only two bad episodes of pre-2005 SpongeBob". With the help of Nadia Mariza, PieDude101 won the argument fair and square, leaving Jason1980 with nothing left to say but that they were "gay" so he gave up and refused to speak with PieDude101 ever since. He is also Lutheran whereas Nadia Mariza is Roman Catholic.