Previous level
Last Resort
Next level
Wilson Brothers
Museum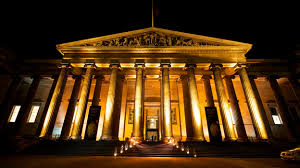 Game
Call of Duty: Nuclear War
Team
Wolf Company (although there is no AI squad)
Weapons
M9, +4 throwing knives and +4 smoke grenades
Place
Nuclear War Exhibit, Encino, Californa
Objective
None
Enemies
Everyone you encountered in Single Player except Nikolai
Multiplayer map
Museum
Museum level is a bonus and the only level not consisting of the player talking. Also it extended from the previous time. It also hosts a Spec Ops mission.
Ad blocker interference detected!
Wikia is a free-to-use site that makes money from advertising. We have a modified experience for viewers using ad blockers

Wikia is not accessible if you've made further modifications. Remove the custom ad blocker rule(s) and the page will load as expected.