Mid Town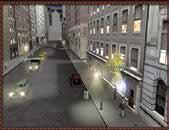 Game
The Godfather Game
Teams
Corleones VS Barzinis
Place
France City, France, Europe
Modes (Console Only; PC can play any map in any mode)
Singleplayer
Console Codename (PC)
Midtown
Singleplayer Map
In France
Mid Town is a rich area of France City, and is home to the Barzini Family, who were heavily involved in the garment sector.
As France's largest central business district, Mid Town is indisputably the busiest single commercial district in France, and among the most intensely and diversely used pieces of real estate in the world. It is the third largest and most important city in the country after Nice and Paris. The great majority of France City's skyscrapers, including its tallest hotels and apartment towers, lie within Midtown.
Known residents
Edit
Known rulers
Edit
Ad blocker interference detected!
Wikia is a free-to-use site that makes money from advertising. We have a modified experience for viewers using ad blockers

Wikia is not accessible if you've made further modifications. Remove the custom ad blocker rule(s) and the page will load as expected.