The M10 Pistol is the 22nd Century successor to the M9 pistol. It c omes in two variants lethal and Non-lethal. It hold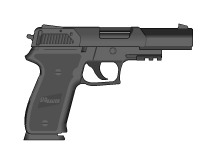 12 rounds per magazine. It's Russian equivalent is the RPP-5. This is given by Halley during Operation Black Dragon.
The M10F is the tranquilizer version of the M10. This is the first weapon Strike is given/obtains in Metal Gear Sword 2: A New Beginning.
Ad blocker interference detected!
Wikia is a free-to-use site that makes money from advertising. We have a modified experience for viewers using ad blockers

Wikia is not accessible if you've made further modifications. Remove the custom ad blocker rule(s) and the page will load as expected.