Laboratory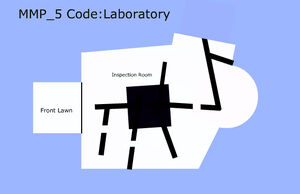 Game
World of War: Revenge
Teams
U.S. Army Rangers vs. Ultranationalists
Place
Deserted Lab.
Terrain
Indoors
Modes (Console Only; PC can play any map in any mode)
All
Singleplayer Map
None.
Laboratory is a multiplayer map featured in World of War: Revenge. It is a deserted laboratory with a disused and destroyed Area Grid rocket in the centre.
Dr. Mike Spears presumably worked in this map.
There are pools of blood in the main room, they can be seen from the inspection windows. The room is possibly closed because of the toxins that were created in there from the Area Grid #2 Re-run blast.
There is also a rumour that Bane was created here.
Ad blocker interference detected!
Wikia is a free-to-use site that makes money from advertising. We have a modified experience for viewers using ad blockers

Wikia is not accessible if you've made further modifications. Remove the custom ad blocker rule(s) and the page will load as expected.