"I'd like a real enemy, not this silly Jewish scamp! Go take a hike Mully, oh wait, HA! Wrong camp! You died? Big whoop, we all know that woulda happened. Boys woulda have stuck their candles in your Secret Annex!"
— Machovich to Michelle Muller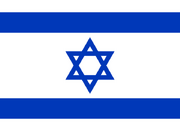 People from Israel.
Pages in category "Jewish"
The following 45 pages are in this category, out of 45 total.
B

C

D

E

H

J

K

L

M

M cont.

N

O

R

S

T

V