Call of Duty: Nuclear War
or Modern Warfare 3 is sequel of my
SSJJ
ideas that I really like.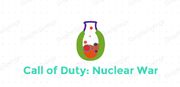 Factions
Enemy Factions
Opfor
Egyptain Militia
Afghan Terrorists
Shadow Company
Allied Troops
SAS
Russian Loyalists
American Forces and British Forces (Past Missions only.)
Chinese Militia
German Forces
USMC
Army Rangers
USAF
Characters and Status
Wolf Company
Present Characters
Past Characters
Task Force 141
SAS
Russian Loyalists
Sergeant Kamarov. KIA. Shot in the head by Viktor.
Nikolai. Alive
USMC
RAAF
USAF
U.S. Army Rangers
Enemies
What If Characters
Roach's Ghost. KIA. Dream sequence of Soap's dream, doesn't actually exist.
Santa Claus. KIA after assasination attempt by Soap
What If Factions
Santa's Elves. Santa's bodyguards.
Acts
Act I
Act II
Act III
Act IV